TOWERS
Lord Baniff's Deceit
.
Hints, Tips, and Maps
.

.
.

Using the Maps

.
Following is a detailed walk through of the first few levels in Towers, Lord Baniff's Deceit. Each level contains a detailed map, major items, and a description on how to overcome its perils. Additional maps will be added as requests for assistance increase.

The legend below can help you decipher the maps:

.
.
.
.
Level One, "It's only a key away"
.

.
.
Level One is an introductory level, that allows a player to focus on the learning the controls of the game.

The game starts with you at Y10. You cannot pass the door at Z10, so the only other way is up! It is wise to pick up all the food you can find, and only eat it when you are hungry. There is an abundance of food on the beginning levels, but food gets scarce on several upper levels.

To get to Level Two, you need to find the key at Q19 and use it on the keyhole at D19. Don't forget to write down the numbers on the wall at F19, and at the end of every other level.

Items of interest: Food, Scroll-B4, Bag & Armor-H14, Dagger-Y4, Feather Fall Ring-W24, Rocks (you can throw them, later sling them)-Y10 & Y11.
.
.
.

Level Two, "Around the bend"
.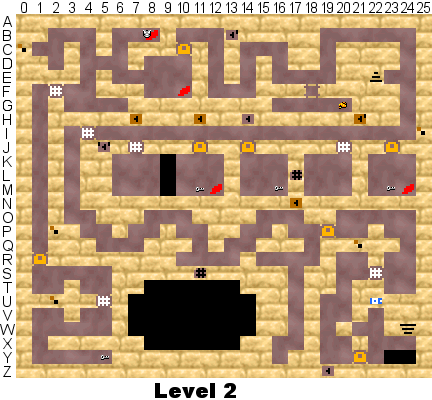 .
.
Level Two is another introductory level that introduces the player to the different types of doors, keys and buttons. Also, new and more difficult monsters are introduced.

Find the key at M23. You can use this key on either keyhole at H7 or H11. Keep unlocking doors with the key(s) you find till you come across a Jeweled Stone Key (M11 or M16). That key works on the keyhole at B13. Then find the key at Y5, which will work in the keyhole at J5. Work your way around until you find a Wooden and a Stone key, they will unlock the two doors ahead and lead you to the next level.

The skeleton is not afraid of anything, and therefore will not run like the other monsters did. If you are about to die it is better to run, and regain your strength, before continuing the fight.

Items of interest: Food, Gloves of Strength-G20, Axe & Armor-B8.
.
.
.

Level Three, "It's Hidden!"
.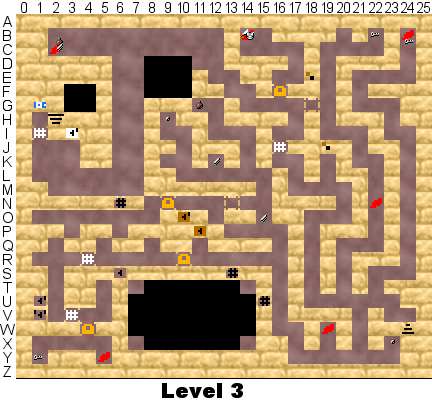 .
.
The last of the introductory levels, this level teaches the player about secret doors. Also monsters in this level fight in groups.

Find the keys at B24 and B22. Then go to the scroll at O15. The scroll gives you a hint on how to continue. It talks about the secret door at N13. To open it just walk into the wall and it will disappear.

You can go back and forth here and in the hallway at R15 until you unlock all the doors, with all the keys you have found. Once you have found the Steel key at Y1, you can use it at I3 to take you to the next level.

Items of interest: Food, Rocks-X23 & H9, Bags-C2 & G11, Scrolls C2 & K12, Long sword & Armor-B14.
.
.

[Back]