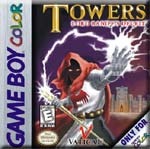 Towers
Lord Baniff's Deceit TM

MSRP $19.99
Available Now
Finally, an American style, first person perspective, active movement RPG for Game Boy Color. Telegames and JV Games have again teamed to develop the most immersive role playing experience ever available for a portable video game system.
Scenario
As the war rages on in Airatose against Sagon (The man of Black), a small force of adventurers set sail to join the battle. During their journey, a magical storm lays waste to their ship and they end up marooned on an undiscovered island known as Lamini (Land of Towers). As repairs are being made to the ship, some of the adventurers seek odd jobs to help fund their stay. They soon find themselves engulfed in a world of intrigue and deceit. Trapped inside Lord Baniff's tower, their only hope of escape is to make it through Baniff's many devious traps and pitfalls.
Features
American-style, full featured RPG.
Detailed on-screen text.
First person 3D step graphics with up to 56 colors.
Play one of four characters, each with different attributes.
Two (2) player linkable option (co-operative mode, help each other survive!).
Battery back-up save feature.
15 levels to explore.
Hundreds of monsters to battle and items to find.
Cast spells, arm your character, eat and sleep, decide on which objects to carry and use.
Published worldwide by Telegames, Inc. and distributed in North America by Vatical Entertainment LLC
Screenshots:
[Back] [Feedback] [Order Form] [Specials]