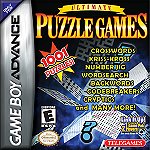 Ultimate Puzzle GamesTM

Available Now
MSRP $29.99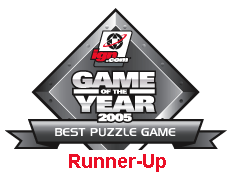 Hundreds of hours
of mind challenging entertainment
Telegames has teamed with Puzzle.tv, the world's leading quiz-meisters, to create the largest and most comprehensive compilation of puzzle games ever released for a portable gaming system.
Now you can play 12 different puzzle types while on the go for one low price! With a single purchase you get loads of puzzles to solve:
Crosswords, Kriss-Kross, WordSearch, CodeBreakers,
BackWords, Cryptic, Diamonds, Easy Crossword,
Number Jig, Micro WS, Mini K, Mini WS
Some of the outstanding features include:
1001 different puzzles - with an average solution time of 10 to 20 minutes each.

Multiple variations of each puzzle type, including sections for younger players.

Scroll your "cursor" around to reveal the huge multi-screen puzzle grids.

PC-style menus allow easy and intuitive operation.

Save the puzzle status and other options for later.

On-screen "How to play" instructions and button actions.

"Game copy" feature allows a sharing of puzzles by downloading them to other GBAs for unlinked, independent play. It's even easier than sharing music files…and it's FREE!
Purchase it now at Walmart, Amazon, or TelegamesDirect.
Screenshots:
[Back] [Feedback] [Order Form] [Specials]