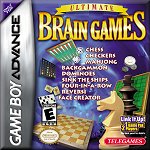 Ultimate Brain GamesTM

MSRP $29.99
Available Now

Nominated for Strategy Game of the Year
Video Sample (6.79MB)
Review on GameZone - 8.9 rating!
Review on Videogame Review - 5 out of 5!
Review on GBA Gateway - 9.6 rating!

Mental Stimulation8
Welcome to the most comprehensive and feature-rich compilation of classic brain challenges ever available for portable gaming. Now you can enjoy Chess, Checkers, Backgammon, Mahjong, Dominoes, 4-in-a-Row, Sink the Ships, and Reversi...while on the go! Pre-set and adjustable computer AI allows multiple challenge levels from beginner to highly advanced for one player modes. Some of the other outstanding features include
2 player linked gameplay with only 1 Game Pak.
Select fully interactive 3-D or 2-D views with animation.
Choose board types, figure styles, and backgrounds.
Pick your computer opponent from 12 different male and female faces with animated expressions.
Over 1 hour of in-game music...just like a music CD! Edit the playlist to only hear what you want.
Demo modes are included for most games.
On-screen "Help" and "How to play" instructions.
Save the game status, player statistics, and other options for later.
Create your own character and face with the included Face Creator program.
PC-style menus allow easy and intuitive configuration of all options.
Purchase it now at Walmart, Amazon, or TelegamesDirect.
Screenshots:
[Back] [Feedback] [Order Form] [Specials]