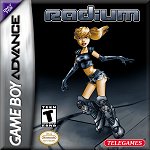 RadiumTM
Available Soon
Only For Game Boy Advance
MSRP $29.99
Preview on IGN.com with In-Game Video
The First 3rd Person 3-D Action/Adventure
The first ever "behind the hero" perspective for a portable video game system. This outstanding 3-D adventure elicits comparisons to console versions of Tomb Raider and others, but can be played on your Game Boy Advance! Some of the outstanding features include:
4 different worlds of 3-D sci-fi action and adventure.
Challenging end-boss for each of the worlds.
16 levels with very realistic 3-D environments.
Third person perspective and smart camera system.
Remote cameras and 3-D mirrors...another first!
Action-based music system.
In-game 3-D cinematics and text events.
Multiple weapons, bonuses and upgrades to be found.
Never ending supply of bad guys to waste.
Click here to pre-order your copy now!
Screenshots:
[Back] [Feedback] [Order Form] [Specials]