Solitaire Overload 101TM
DISCONTINUED
On Sale for only $4.99 (MSRP $7.99)
Available Now
Only at the Apple iTunes App Store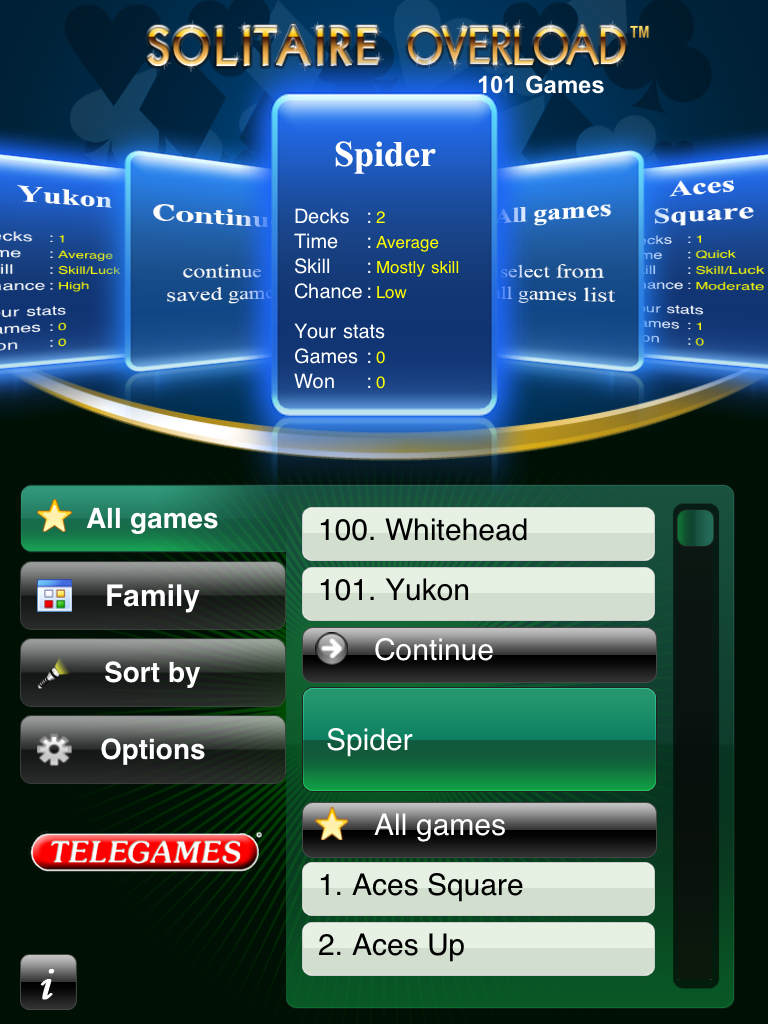 101 unique versions of Solitaire!
This complete collection is based on the hit game released for Nintendo DS. This enhanced version contains all 101 unique versions of Solitaire from your favorite families including Klondike, FreeCell, Spider, Baker's Dozen, Yukon, Forty Thieves, Canfield, Beleaguered Castle, and many others. Professionally developed and loaded with features, this product is a "must" purchase for your iPad library.
In a single product, you get Aces Square, Aces Up, Acme, Ali Baba, American Toad, Aunt Mary, Baker's Dozen, Baker's Game, Baroness, Bastion, Beetle, Beleaguered Castle, Betsy Ross, Big Forty, Blind Alleys, Blockade, Bristol, Busy Aces, Calculation, Canfield, Canister, Carlton, Castles in Spain, Congress, Corners, Corona, Deuces, Dieppe, Diplomat, Double Baker, Double Canfield, Double Easthaven, Double FreeCell, Double Klondike, Double Rail, Double Scorpion, Double Yukon, Eagle Wing, Easthaven, Eight Off, Famous Fifty, Fan, Florentine Patience, Flower Garden, Fortunes Favour, Forty Thieves, Four Colors, Four Seasons, FreeCell, Gargantua, Giant, Golf, Good Measure, Indian, Josephine, King Albert, Klondike, La Belle Luccie, Lady Palk, Limited, Little Forty, Little Napoleon, Little Windmill, Lucas, Maria, Milligan Cell, Number Ten, Parliament, Penguin, Pyramid, Quadrangle, Raglan, Rainbow, Rank and File, Red and Black, Royal Parade, Russian Solitaire, Scorpion, Scotch Patience, Sea Towers, Shamrocks, Simple Simon, Somerset, Spanish Patience, Spider, Spider One Suit, Spider Two Suit, Spidercells, Spiderette, Stalactites, Steps, Steve, Storehouse, Superior Canfield, Trefoil, Tuxedo, Twin Queens, Waning Moon, West Cliff, Whitehead, and Yukon. Replay value is huge since all games have been designed with VUE™ TECHNOLOGY providing Virtually Unlimited Entertainment.
Features:
- 101 unique, full-featured games
- On-screen "How to Play" instructions for each game
- Sort and select games alphabetically, by family, by times played, by times won, by time, by skill, or by chance
- Get detailed information about each game like card layout, number of decks, time estimate, skill required, and chances of winning
- Select your favorite card decks and backgrounds to use
- Edit the playlist of original sound tracks or use your own iPod music as background
- Automatically tracks and saves your stats for number of games played and number of games won
- Save a game in progress for later
- Modify the game options to match your preferences
- Undo and Redo buttons allow you to change your moves
- Play in portrait or landscape mode
[Back] [Feedback] [Order Form] [Specials]